<![if !IE]> <![endif]>

KRAIBURG Relastec GmbH & Co.KG
Fuchsberger Str. 4
29410 Salzwedel
Germany
+49 3901 83040

+49 3901 423557

List of Products
This exhibitor shows the following products and commodity groups:

Company & products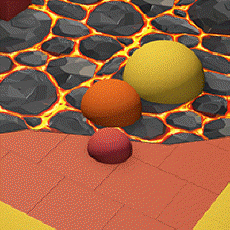 EUROFLEX® Visual System
The best of both worlds
EUROFLEX® impact protection slabs with printed surface covering
EUROFLEX® impact protection slabs have been proving their worth for many years thanks to their high impact protection values for children's playgrounds. Although our EPDM impact protection slabs and their various designs already offer numerous design possibilities, there are still limits.
With our new EUROFLEX® Visual System you can now print individual designs with pixel precision - in virtually any shape and size! From motifs such as stones, lawns, wooden floors, sea and jungle to your own logos, corporate design colours or lines, everything is possible!
EUROFLEX® Visual System consists of 2 components:
- EUROFLEX® impact protection slabs (without chamfers on the edges) provide the base under the printed surface. They are TÜV approved according to DIN EN 1177:2018.
- The printed surface covering is a 2mm thick PVC floor.
The product Visual System is offered and supplied as a complete system by KRAIBURG Relastec.
It can only be used in indoor areas such as airports, shopping malls, fairs, climbing halls, children's playgrounds, kindergartens and schools.