<![if !IE]> <![endif]>

Partapur, Delhi Road A1/1 Udyogpuram Industrial EstatePartapur,
250103 Meerut
India
+91 9837044200

+91 121 2441000

Awarded# 1 Exporter from India, 100+ World Athletics Approved Track & Field Equipment / Implements
Awarded# 1, Track & Field, Athletics, Sports and Training Equipment Manufacturer from India with 3,600+ Products. 100+ World Athletic Certified Products, Goal Post for Different Sports, Sport Nets etc
BHALLA INTERNATIONAL
is one of the oldest and largest Sports Equipment Manufacturing Industry in India, which is indulged in manufacturing of Sports Equipment in India since 1957. The company promotes & sells its product under the brand name Vinex. Since inception Bhalla International has focused on adapting the best manufacturing techniques available to produce the highest quality products with the lowest possible price. This can be evidenced from the No.1 Award given to company continuously since 2004-05 for the highest exports of Athletics equipment, for the promotion of Indian brand.
We manufacture the largest range of sports equipment that accounts to more than
3600+ products
only under one facility with the widest range of machining and tools facilities that facilitates us to produce wider range of sports & leisure equipment.
We have
100 + World Athletics and 1250+ CE EN 71 certifications
on a varied range of our Athletics & Sports Equipment, which proves our ability to produce superior quality products. We offer the products with wide selection of products suiting different market segments right from Track & Field Equipment, Athletics Equipment, Agility Training or Speed Training Equipment (Agility Hurdle, Agility Ladders, Slalom Poles, Speed Reaction Hoops, Resistance Training Belts etc.), Football / Soccer Goal, Socces Accessories Training Equipment, Basketball Equipment, Boxing Equipment, Rhythmic Gymnastics Equipment, Table Tennis Table Equipment and Accessories, Fitness Equipment, Primary Sports Equipment, Physical Training Equipment and much more. We also customize and develop products as per customer requirement.
HIGHLIGHTS
66 Years of Manufacturing Excellence
Exporting to 160+ Countries
We are manufacturing and Selling 3600+ products
We have 100+ World Athletics Certified Athletics Equipment
We have 1250+ CE EN 71 Certified Products
1900+ REACH Certified Products
950+ CPSIA Certified Products
Galerie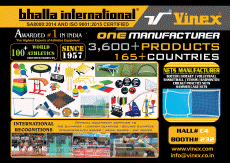 Products
Product groups
Brand
Press realeses
Further links
Product emphasis
Target and outlet markets