<![if !IE]> <![endif]>

Coma-Sport sp. z o.o.
Junacka 8
43-502 Czechowice-Dziedzice
Poland
+48 32 2156006

+48 32 2156006

List of Products
This exhibitor shows the following products and commodity groups:

Company & products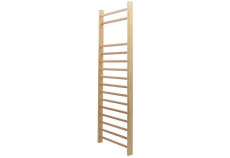 Gymnastic Single Field Wall-bar 2,6 x 1,0 m (according to DIN7910)
Our gymnastic single field wall-bar 2,6 x 1,0 m features finger joint pine wood frame 35 x 140 mm with plywood oval bars 33 x 43 m. It's finished in clear lacquer. In our offer you can also find a set of brackets which is necessary for proper wall-bar installation. Our wall-bars are an ideal choice for sports halls or gyms as well as for private use and thereapy rooms.

It complies with DIN7910.