<![if !IE]> <![endif]>

EUROTRAMP Trampoline Kurt Hack GmbH
Zeller Str. 17 /1
73235 Weilheim
Germany
TRAMPOLINE DIVERSITY. SINCE 1960.
Eurotramp was founded in 1960 by Kurt and Rose Hack as a small craft business in the Swabian town of Göppingen. Right from the start, the two set themselves an ambitious goal: they wanted to build the best trampolines in the world. Today, the company exports trampolines "Made in Germany" to over 95 countries worldwide.
THE FIRST CHOICE IN TRAMPOLINE SPORTS.
Trampolines from Eurotramp have been the preferred trampoline equipment of most athletes and coaches for over 50 years. Countless World Cups, as well as national and international championships, World and European championships and even major international events such as the Olympic Games place their trust in the proven Eurotramp quality.
TRAMPOLINE DIVERSITY.
Whether for school and club sports, outdoor fitness, therapy, playgrounds and kindergartens, circus, aqua fitness, shows and stunts, freestyle or trampoline halls - Eurotramp offers an individual solution for all areas of application around trampolining.
Galerie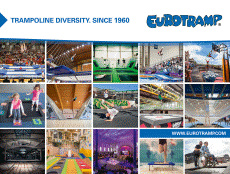 Product groups
Brand
Press realeses