<![if !IE]> <![endif]>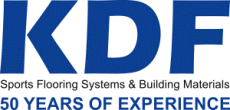 KDF - Kataskeves Dapedon LTD
Mitropoleos Str. 19
546 24 Thessaloniki
Greece
List of Products
This exhibitor shows the following products and commodity groups:

Company & products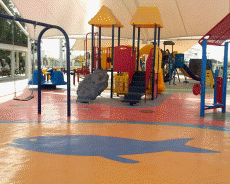 SAFEPOL SANDPROOF, PLAYGROUND FLOORING
Innovative, elastic, seamless, flexible colored flooring with sandproof properties, ideal for school courtyards and playground floorings.

It consists of a cushion base of 2 layers. First layer is a base layer of RECYCLED RUBBER 858 (granulometry 2-4mm or 2-5mm) with a special, modified binder, PU BINDER 1178, in thickness of 30-110mm and the second layer is a mixture of RECYCLED RUBBER 858 (granulometry 0,5-2mm) with PU BINDER 1178 in thickness of 10mm. Then follows the modified sealing, sandproof and waterproof KDF-PU 1055 pore filler with high elasticity in 2 crossing layers and the modified, KDF-PU 1056, sealing, UV-resistant, aliphatic, elastic, glossy top layer in 3 crossing layers.

Certified system by TUV and LABOSPORT Institute.