<![if !IE]> <![endif]>
KDF KATASKEVES DAPEDON LTD
Mitropoleos Str 19
546 24 Thessaloniki
Greece
KDF - THE EXPERT IN SPORTS FLOORING
KDF LTD (www.kdf.gr) is one of the most dynamic and export-oriented Greek companies (currently activated in more than 70 countries in 4 continents), based in Greece (EU) and in U.A.E too, with production facilities and warehouses in both countries for acrylics and polyurethanes and EPDM granules.
We are experts in sports flooring products and systems, with huge experience in Europe with many applied projects in Spain, France, Greece as well as Malta, Romania, Bulgaria, Croatia, Serbia and Ukraine. Our presence is active in Latin America too with projects in Colombia, Peru, Chile, and Brazil.
Our export horizon is expanding rapidly, and our goal is to stand out as a model of flexibility and competitiveness. The company, being one of the pioneer companies in the sector of sports flooring systems and building materials and giving particular attention to providing a fully upgraded range of products and services, provides certified systems according to all EU norms and regulations and by well-known international institutes like WORLD ATHLETICS, I.T.F, TUV, LNE, LABOSPORT, ISASPORT, INTERTEK to name but a few.
KDF goes far beyond trade, providing consultancy in marketing and technical support all the way, from the costing till the finalization of the project. Operating under the requirements of ISO 9001/2015 (and many others like ISO 14001/2015, ISO 50001/2018, ISO 27001/2013 and more) for production, trade and application, we make sure our products are first applied successfully at site by our own people before we launch them abroad.
Therefore, our systems have all stood the real-life test in different climates, from North Europe to Middle East till South America, and this is one of our main assets, enabling us to provide full and vertical technical support from specifying to final application plus supervision when required or even full application and costing.
We invite you to discover a world of sports flooring expertise and solutions.
Galerie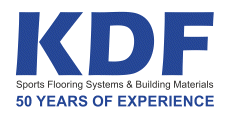 Products
Product groups
Brand
Press realeses