<![if !IE]> <![endif]>

Rue de la Mairie 341
59780 BAISIEUX
France
French manufacturer of giant tiles to protect sport floors from any damages during events
French manufacturer of giant tiles to protect sports floors from any damages during events
SOMMER Needlepunch is a producer of textile flooring, based in the north of France.
Quality and professionalism carried the company from 1880 until now.

Amongst other products, SOMMER produces a collection of tiles and carpets designed to protect your (sport-) floors or to enhance the ambiance of your event. SOMMER also offers a large choice of artificial grasses.

From the start sustainability has always been part of our identity : all our products are fully recyclable. All our products are eco -conceived, meaning they are developed with a view on an end of life recycling solution.
We produce with the latest available technology minimizing our energy consumption.

SOMMER SPORTSFLOOR PROTECTION is the brand dedicated to this market.
Galerie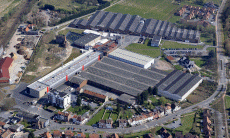 Products
Product groups
Press realeses