<![if !IE]> <![endif]>

TOPS FOR TENNIS® by Viganò Pavitex Spa
Via Carlinga 35
24035 CURNO (BG)
Italy
+39 035201802

+39 035 201740

Viganò Pavitex stands for more than 70 years of experience in the manufacture of fibre-bonded floorings and is working since 1996 according to the standards of the norm ISO 9001:2015.

Its production units are backed by in-house R&D facilities to design tennis products according to market requests and customer needs.

Member of the ITF Foundation since 2011, Viganò Pavitex is leader in the category of Hybrid Clay tennis courts and has now supplied more than 3.000 courts (and counting) installed in more than 42 countries around the world.

Its TOPS FOR TENNIS® surfaces are designed to provide comfort for players, along with the highest quality of tennis play. Today's tennis community settles for no less.
Galerie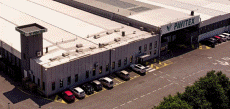 Products
Product groups
Brand
Press realeses
Further links